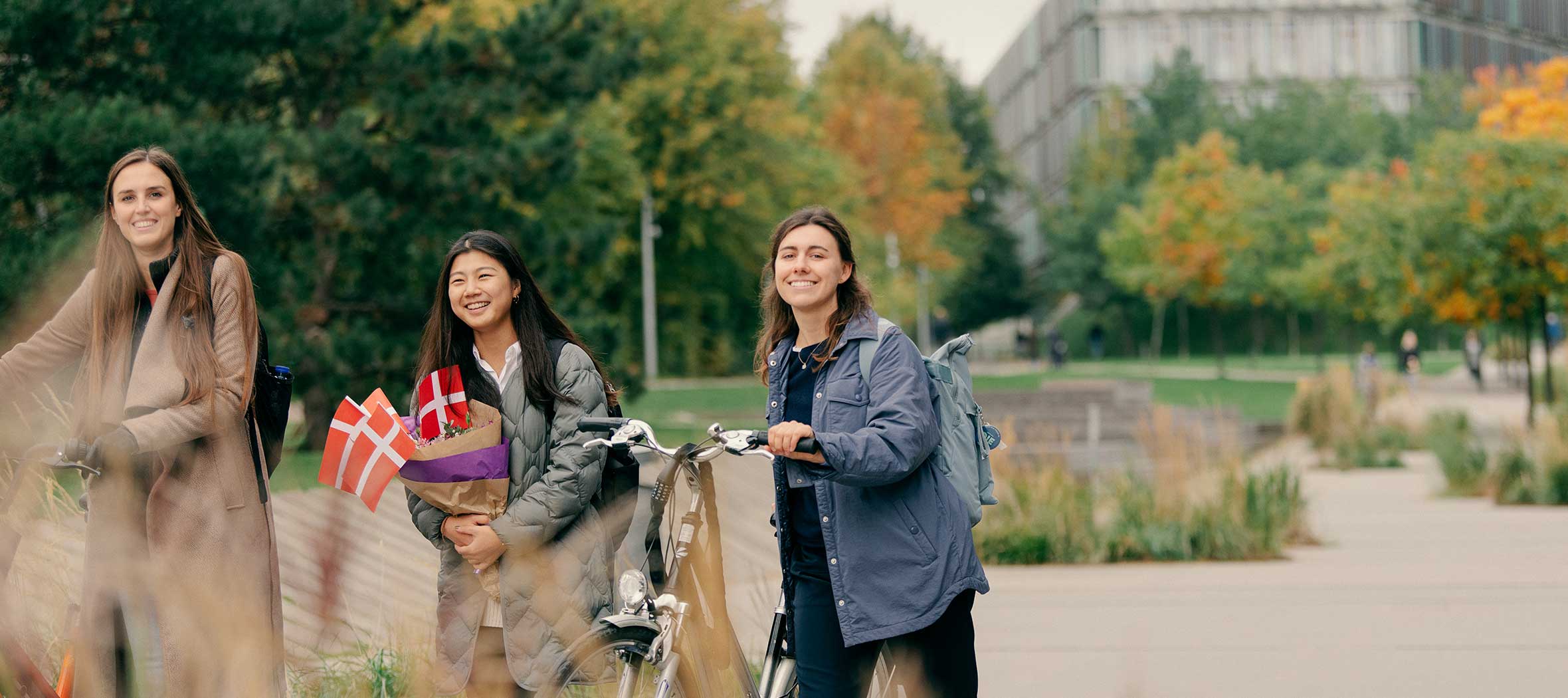 Imagine creating one shared CBS experience. An experience principle is the feeling we wish to leave with the receivers when CBS communicates to them – no matter which part of the organisation the message comes from.
What is an experience principle?
Our experience principle is based on CBS' strategy and is a way of adapting it to our own work sphere.

It is a common language and a guide to make sure CBS comes across as the organisation we want to be – across channels and services.

Many of us communicate on behalf of CBS in many different ways and to different target groups.

Our goal is: A shared framework, keeping the strategy in mind when we communicate and a common CBS experience for our target groups.
Strategic base
We wish to come up with transformative solutions to societal challenges. We are curious, have creative ideas and a high intellectual level – but we cannot solve the challenges alone.

Therefore our communication shows that we are a reliable partner who INVITES change and that we are able to address the complex challenges we face both visually and verbally to IGNITE the people we need to embark on this journey.
Experience principle for CBS
Our experience principle is the feeling of being Invited.Ignited.

Focus is on the receiver's perspective. You might know the feeling yourself from either your work life or life in general:

The feeling you get when …

You're invited to a cool event – as a very special guest
You're invited to dialogue
Complicated things become easy to understand
You pick up an appealing product because you just can't help it
You know exactly what to do because someone is guiding you
You become inspired – and would like to know more

… That is the feeling we want our communication to give – to feel ignited and invited!
Criteria
The experience principle has four criteria to make it more applicable.
We invite
We invite in the way we communicate – to inspire people to take part in solving societal challenges with us.

We invite dialogue.
We encourage interaction.
We are authentic
We act reliably, sincerely and realistically to inspire confidence.

We portray real people of flesh and blood.
We are part of society.
We are visionary
We present ideas, create future scenarios and show possible solutions because the commitment is larger when the goal is clear. "Imagine what we could accomplish".

We visualise our thoughts.
We create innovative experiences.
We transform
We wish to change society for the better and we wish to clarify that.

We focus on the changes we wish to make.
We move.
Criteria in actual practice
We wish to get as high a score as possible on each criterion when we communicate. However, in practice you cannot get an evenly high score across them all every time.

Some criteria will be easier in one given context while others will be easier in another.

As communication is not an exact science, it is not possible to decide just how inviting, authentic, visionary or transformative you are – but it may serve as a basis for a fruitful discussion with a colleague.
You are welcome to contact Lene Højland Bergh-Hansen (lhb.slk) or Thomas Simsby (ts.slk) if you have any questions or if you would like us to run a workshop.

If you wish to know more about the experience principle, we've elaborated with some examples in a PowerPoint presentation.